icuapp

- the smart control center for precinct monitoring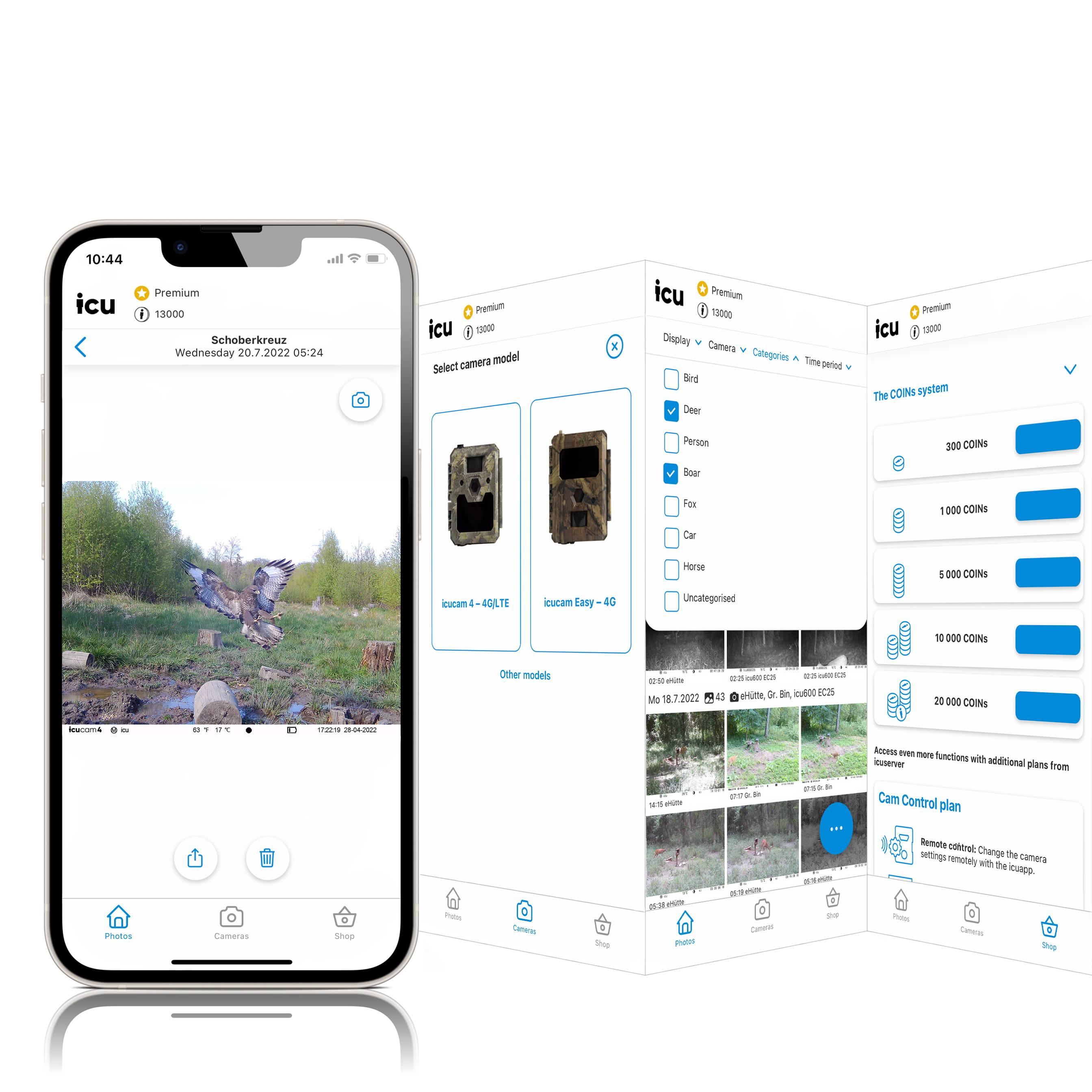 Switch image sending on/off
Activate or deactivate image reception for individual cameras conveniently in icuapp at the touch of a button.
Share pictures with hunting colleagues for free
Simply send the best pictures from the app to your hunting buddy. Always free of charge.
Request photos & videos yourself
Send the command for a photo to the camera at the touch of a button and receive a photo. For video-capable cameras, also request video.
Receive notification & photo immediately
Immediately receive a push notification and the photo in the app as soon as the camera triggers in the precinct. (e.g. game, burglar,..)
Status of the cameras in view
Info about battery level, reception at the location, last contact to camera, etc.
Gentle on the eye, inconspicuous when hunting. The dark design of icupp perfect for poor light situations.
Full control over the cameras
All available camera settings conveniently adjust remotely via the icuapp or the icuWebapp.
With the additional package Control or Premium, all settings can be adjusted and continuously changed from home. Every new customer can try this out for 30 days free of charge and without obligation. The package simply expires after the time, they do not have to cancel or do anything for it.

Set broadcast times
Optionally, the times at which a camera should record and send images can be set via a schedule and image sending can be paused at certain times (during the day or only at night).
Finding the perfect camera setting
Experiment with the setting options to find the best possible combination of shutter speed, resolution and image format. It is not necessary to go to the camera on site to do this. The settings can be made from anywhere via the icuapp.
Additional recording of videos, continuous shooting, etc. can also be activated if required.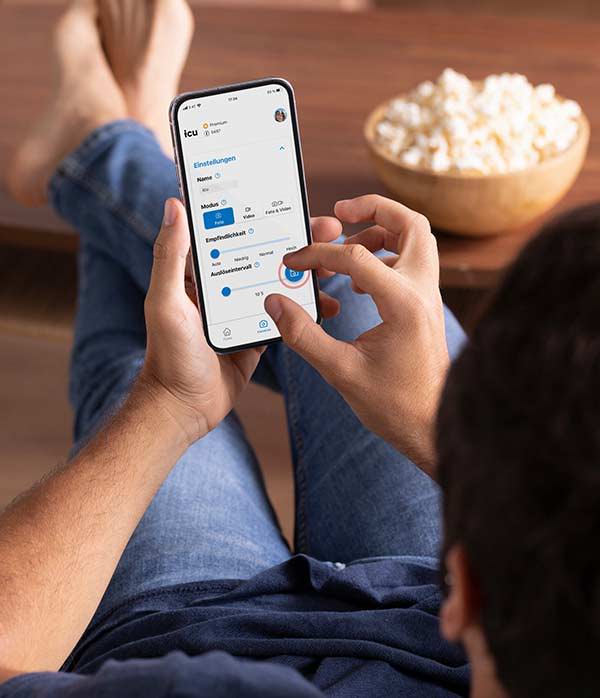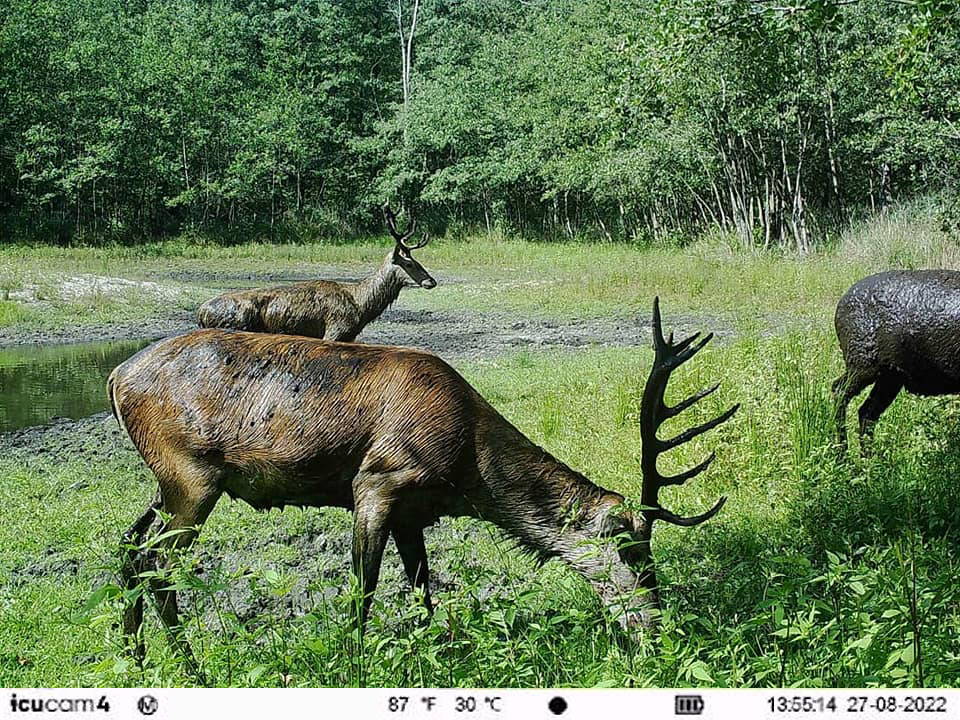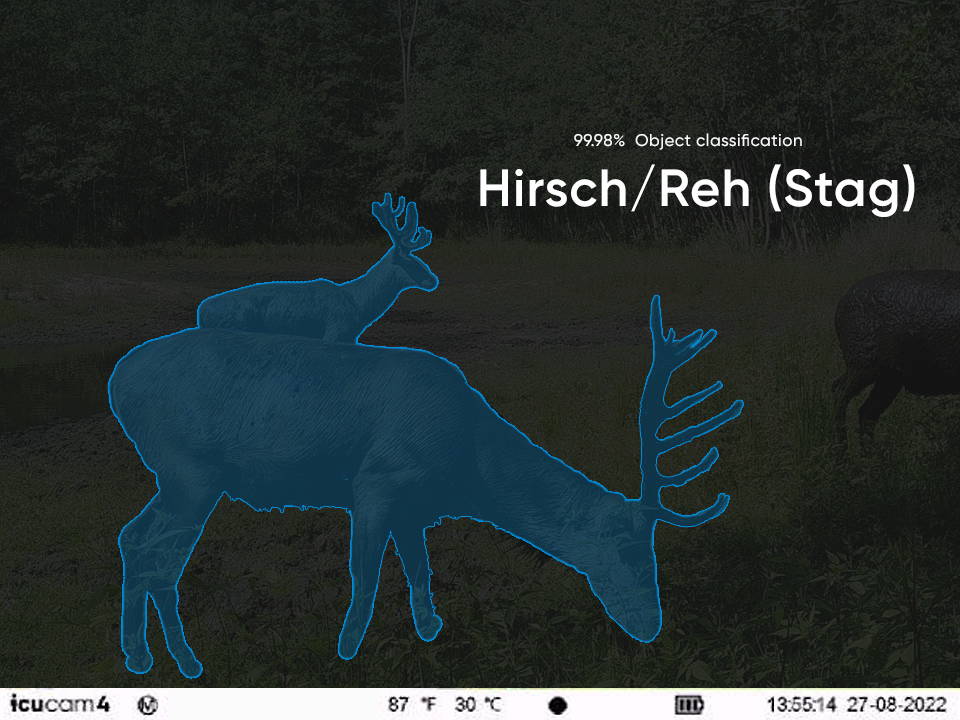 Image analysis facilitates the selection and filtering of images. Display only the categories you want. This saves you from looking through countless images and, if you wish, shows you only those images that feature a person, an animal or a vehicle.
With the help of AI (artificial intelligence), the images are analyzed in real time and the icuapp recognizes whether a car, a human or just a harmless animal is approaching the camera.
Animal detection & game species alarm
Hunting has never been so smart! Thanks to AI image analysis, the camera sends you push notifications with game species alerts directly to your phone. So you not only know immediately where something is happening in your hunting area, but also who is currently in front of your lens.
Choose for yourself from the categories: Deer / stag, antlered, wild boar, chamois, dog / wolf, badger, fox, raccoon, rabbit, cow, marten, bird, horse, man, vehicle, and many more or all categories.
AI image analysis is included in the Premium add-on package included.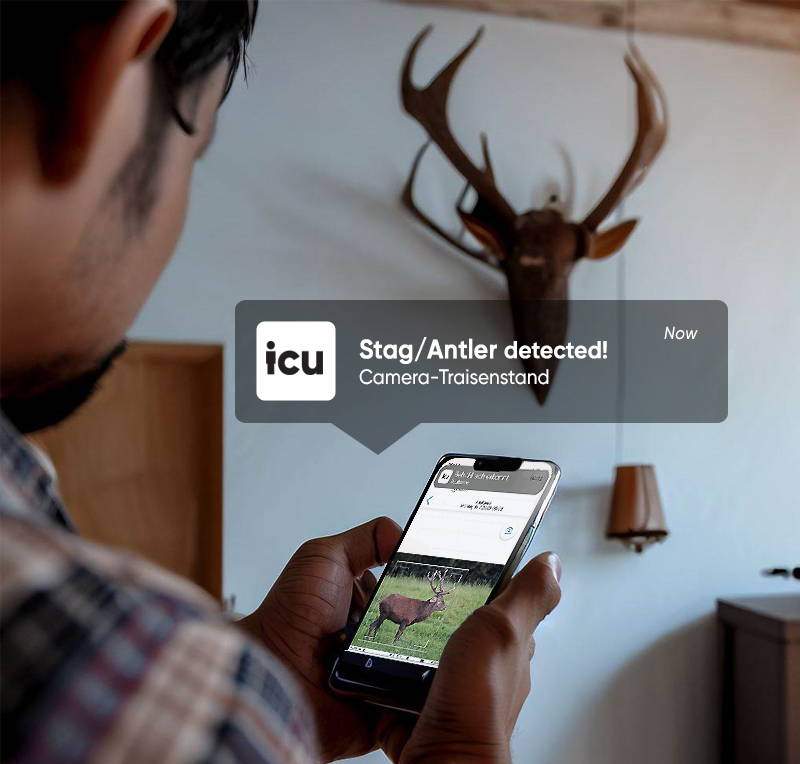 Göttweiger Straße 2, 3131 Inzersdorf-Getzersdorf, Austria

We deliver to: Austria, Germany, Belgium, Bulgaria, Denmark, Estonia, Finland, France, Greece, Ireland, Italy, Latvia, Liechtenstein, Lithuania, Luxembourg, Netherlands, Poland, Portugal, Romania, Sweden, Slovakia, Slovenia, Spain, Czech Republic, Hungary, UK